Jet Vent Series Dust Collectors
Easy to install, operate, and maintain, Griffin's Jet-Vent dust collectors are an efficient, economical solution for dust and product recovery. These pulse jet filter vents provide continuous fabric filtration for extended periods. Available in a wide-range of sizes, the Jet-Vent is one of Griffin's most versatile dust collectors. 
Like all of our dust collection systems, these units are built to be exceptionally rugged and ready to stand up to heavy-duty use. With a wide range of options, they'll bring you the flexibility to meet your application needs.
If our standard models and options don't meet your needs, we'll design a collector that will.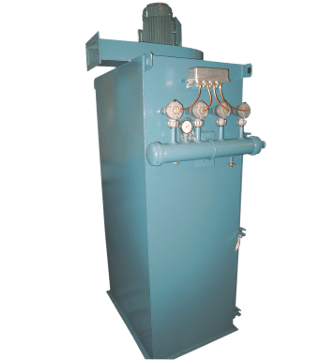 Jet-Vent's Heavy-Duty Construction 
Griffin's standard models are built to perform under the harshest of conditions, but if your needs require different materials, we will be happy to work with you suit your needs.
The engineers at Griffin have designed our standard Jet Vents for heavy-duty jobs:
Housing / Hopper: continuously welded hot rolled steel (HRS) construction
Pressure for standard design: -20"W.G.
Cloth Area: 29 ft² – 3,164 ft²
Efficient and Economical Performance
Less Downtime
Pulse technology allows continuous filtration over extended periods.
Control Air Consumption
A Pulse Jet Timer lets the operator control the compressed air consumption for the cleaning cycle.
Maintenance
Less maintenance timeBag removal from a side-access door means faster bag replacement and less maintenance time.
Designed to Minimize Maintenance
Without internal moving parts, maintenance is kept to a minimum. 
Design Features
Over 31 standard models available
Available with nominal 4" or 6" diameter filter bags
Modular design for unlimited airflow
Standard units designed for -20" W.G.
Housing and hopper constructed of continuously welded HRS
Control panel in NEMA 12 4 enclosure standard for all Jet-Vent models-shipped loose for field mounting
Standard bag removal is from the side access door
Accessories
ACCESSORIES
Fans – available as required, suitable for grade level, side or top mounting on collector
Barrel hopper assembly – standard 60 degree slope with flanged discharge and support legs
Other accessories – elevated walkway, railing, ladder, slide gate, rotary air lock, insulation, safety grating, companion flange, bird screening, roof adapter
Options
 Explosive conditions – NEMA 7 or 9 control panels, NEMA 7 or 9 solenoid enclosures, pressure relief devices, electrical grounding
Special construction – stainless steel or special alloy steels
Sanitary finishes – available for food grade applications
Special surface finishes – sand blasting, epoxy and other coatings
Pressure gauges and switches – combination differential pressure switches/gauges, differential pressure switches
Filter media – singed polyester felt is standard. Nomex®, polypropylene, fiberglass, acrylic, and Ryton® also available
Filter media finishes – PTFE membrane, acrylic, glazing and other acid resistant finishes also available.
Pleated filters